ESCAPE TO THE JERSEY CAPE!
Our famous beaches, boardwalks, spectacular free zoo, dining, camping, wineries, breweries and distilleries... will all be ready when you are.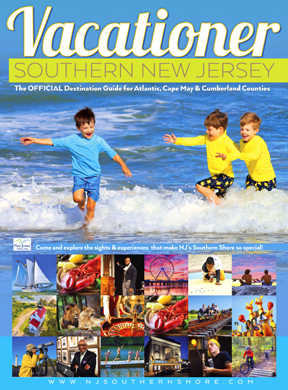 Planning a trip?
Check out the region's premier guide covering Cape May, Cumberland & Atlantic Counties. Unlike most other guides that are filled with mostly advertising, the Vacationer is brimming with helpful stories along with beautiful photographs. Discover everything you need to plan your visit. Beaches, boardwalks, casinos, nightlife, dining, amusements, lodging and much more.
View online OR Request a printed copy
Tourism Information:

Cape May County
800-227-2297
Cumberland County
866-866-MORE
Interested in advertising with us?
Find out why advertising in the Vacationer is so different from your other choices.

Rate Card here
Contact our sales staff here
This site was created & produced by the Cape May County Tourism Department. For more information contact Diane Wieland: dwieland@CO.CAPE-MAY.NJ.US, or 609-463-6415
The Cape May County Department of Tourism wants our visitors to come back to extend our tourism season and we need your help. You can participate in the effort by letting us know your post season promotions, deals and offers and we will list them for free! Add a LISTING. Add an EVENT.